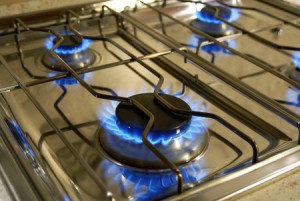 Do you need a gas appliance installed, serviced or repaired? Our friendly team of fully qualified Gas Safe Registered plumbers can help you at an easy to afford price.
In most of our homes there's at least one gas appliance that should be serviced annually to ensure it is safe to operate and not leaking any lethal carbon monoxide fumes. These include gas fires, cookers, hobs, central heating boilers, etc.
We can offer you FREE guidance when you are selecting a new gas appliance for your home. We can then install it, maintain it and service it for you. For free gas safe advice, please call 0161 241 4930 today.
Our friendly Gas Safe registered engineers can install any gas appliance and on completion will give you a Building Regulations Certificate to prove your gas appliance was properly and safely installed by a competent and qualified engineer or plumber.
A Quick Guide To Spotting A Gas Appliance that needs servicing or repairing
Gas Fires:
The flames are yellowish or irregular.
The flame fails to ignite on the first try.
The pilot flame goes out frequently or fails to light easily.
Smoke stains around the fire.
Damage to coals/logs or radiant.
Gas Cookers or Hobs:
As the above list.
If the flame is making a roaring noise or lifts off the burner.
If you can smell gas fumes or carbon monoxide (immediately call National Gas Emergency Number 0800 111 999)
Gas Safety Certificates in Manchester – For Landlords, Letting Agents & Homeowners
Legal Requirements:
Only Gas Safe Registered engineers can install or work on a gas appliance
If you have a new gas appliance installed you must get a Building Regulations Certificate from the installer.
It is mandatory for all Landlords to have all gas appliances in a property to be tested and listed to complete a Landlord's Gas Safety Certificate.
If you are a homeowner, you currently do not have a legal responsibility to get your gas appliances regularly checked and serviced by a Gas Registered engineer. However, with the Home Buyers Pack you will need to show you've been properly servicing and maintaining your gas appliances when selling your property.
The Landlord's Gas Safety Certificate
Since 1998, it has been a legal requirement for any Landlord who provides gas appliances in their rental properties to make sure that all of the gas appliances are properly checked and listed in a Gas Safety Certificate.
This is an annual requirement on all Landlords, and failure to do so can result in a large fine or even imprisonment.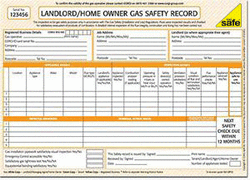 Understanding the law for rental accommodation
"As a landlord, you are responsible for the safety of your tenants. Landlords' duties apply to a wide range of accommodation, occupied under a lease or licence, which includes, but not exclusively:
residential premises provided for rent by local authorities, housing associations, private sector landlords, housing co-operatives, hostels.
rooms let in bed-sit accommodation, private households, bed and breakfast accommodation and hotels.
rented holiday accommodation such as chalets, cottages, flats, caravans and narrow boats on inland waterways."
Source: Gas Safety Register
What Is Listed In The Landlord's Gas Safety Certificate?
The Gas Safety Certificate contains details of: the landlord, address of the rental property, name and agent's details (if you use us it will contain our Gas Safety Registration Number 223989) and a list of all the gas appliances and flues, if there are any defects or recommendations and the gas appliances are safe to use.
What Is Tested To Obtain A Landlord's Gas Safety Certificate?
The following is a brief outline of the Landlord's Gas Safety Certificate checks:
Appliance for gas tightness.
Standing & working pressure.
Ventilation is satisfactory.
Burner pressure & gas rate.
Proper operation of flame failure devices.
Overall condition, checking for any sign of unsafe operation.
Tightness test for the full system.
Test flue flows so products of combustion are safely removed.
Our Landlord Gas Safety Services
We deliver a range of specialist and highly competitive Gas Safety Services in Manchester to owners of rental properties, letting agents, estate agents, local authorities, hostels, community centres. Call us today on 0161 241 4930, to find out how we can save yo money.