Are You Spending A Lot More On Heating Your Home Than You Need To?
Overtime central heating systems corrode internally, which produces black iron oxide sludge deposits in radiators. These deposits can stick to all of your central heating components causing expensive premature failing of pumps, valves, heat exchangers, heating coils and radiators can become partially blocked resulting in high maintenance costs and considerably less fuel efficiency.
Our Manchester Power flush Service can rejuvenate a central heating system in terms of cleanliness, lower maintenance costs and by clearing the blockages increase you fuel efficiency – lowering your fuel bills.
Signs Your Central Heating System May Need A Power Flush:
Are your central heating and hot water fuel bills higher than they should be?
Do your radiators have cold spots, particularly around the top of the radiator?
When you bleed your radiators is the water dirty?
Is your central heating boiler noisy or makes clanking sounds?
Does your central heating boiler suddenly cuts out?
Does your hot water temperature often fluctuate between hot and cold?
Are you finding it difficult to heat your home evenly?
How Our Manchester Power Flush Service Works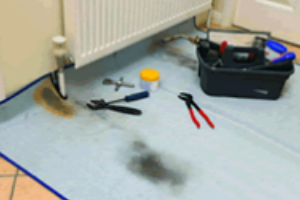 Normally we set up our specialist power flushing equipment outside your home and connect it to your central heating water system. We don't need to take all the radiators off.
Special chemicals are added to the water in your central heating system which starts to loosen the rust. The heating is then turned on and all radiators are checked for cold spots. This tells us where the main sludge deposits are.
The circulatory pump is disconnected and the power flushing system which sends highly pressurised water throughout your central heating system.  As the rust and black sludge deposits become loose and flows from the radiators and system it is collected by our magnetic filter.
We continue power flushing your entire central heating system until the water samples are totally clean and pH neutral.
We then refill your system with clean water containing a corrosion inhibitor. Our gas Safe registered plumber will then check and balance the central heating system making sure it's functioning correctly and fuel efficiently.
On completion our heating engineer will give you a Power Flush Certificate & Guarantee.
The Benefits Of Power Flushing Your System:
Elimination of radiator cold spots making it easier to heat your home properly.
Better hot water flow without temperature fluctuations.
Quieter boiler operations and increased life of your central system.
Lower maintenance costs and fuel bills usually around 20% lower.
What To Do Next
If you're concerned about your central heating system or higher than normal fuel bills, take full advantage of our Free Central Heating Health Check by calling 0161 241 4930 today.